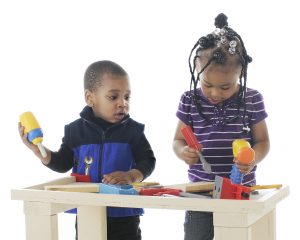 The Cost of Preschool Quality and Revenue (CPQ&R) calculator provides reliable cost calculations and funding estimates so you can respond to questions about expenses associated with implementing high-quality preschool with confidence.
This Communications Toolkit provides the ingredients and strategies you need to craft an effective response to why policymakers and funders should invest in high-quality preschool programs.
Outreach Materials
These include sample social media posts, a press release template, printable handouts, quotes and graphics for presentations.
Background Documents
Tips to guide framing, pivoting and storytelling (Advocacy and Communication Solutions, 2017)
"The CPQ&R helped us think more about which quality factors are also cost-drivers," said Amanda Zimmerman of Early Learning Indiana.
Have a suggestion or a question? Contact CEELO project leads GG Weisenfeld and Michelle Ruess or your assigned state's CEELO lead.
Why Quality Matters in Pre-K: Helpful Resources

Click icons below for resources to help you create effective testimony, presentations and handouts, including explanations of key elements, talking points, quotes from experts, CPQ&R data and graphics, and relevant resources from CEELO and the National Institute for Early Education Research.