Teaching pre-K requires specialized skills to help each child learn and grow.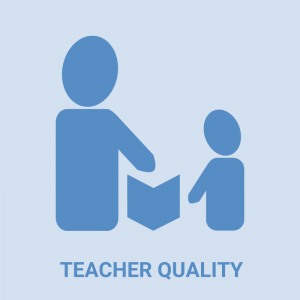 Pre-K classrooms are typically supervised by a lead teacher and an assistant teacher. Research has shown these adults play a crucial role in each child's academic and social/emotional development. The design and management of the classroom and how teachers interact with children make a big difference in child outcomes. High-quality preschool–and positive outcomes for children– depend on knowledgeable, dedicated teachers and effective administrators.
Based on a review of the evidence, a committee of the Institute of Medicine and National Research Council of the National Academy of Science recommended lead preschool teachers have a bachelor's degree with specialized knowledge and training in early childhood education.[1] There is not much research on the qualifications of assistant teachers; however, the Child Development Associate (CDA) credentialing program has been recommended to help prepare assistant teachers to become teachers rather than permanent assistants.
Qualifications for teaching roles vary, but ongoing support is required. Effective pre-K teachers who are engaged with children in their teaching practices are also actively engaged in continuing professional development. The national standard, developed by the National Institute for Early Education Research, recommends more than 15 hours of training annually with no more than 50 percent focused on health and safety. In addition to training, coaching or ongoing embedded classroom support based on classroom observation is necessary to enhance teaching practices and provide high- quality, effective learning experiences for children.
Suggested Talking Points about the costs of Pre-K
Teaching pre-K is "rocket science"–complex, nuanced, dynamic
Good preschool teachers don't just focus on academics, but support each child's physical, cognitive, social, emotional, and moral development in partnership with parents.
The foundation for this good teaching is a well-prepared teacher with a reasonably small class and strong supports in and out of the classroom including a continuous improvement system that ensures strong teaching practices.
Recent research shows coaching focused on improving interactions with children can both improve teaching practices and ensure high-quality classroom environments
The actual experiences children have within classrooms, primarily through interactions with teachers and peers, are significantly linked with children's development.
At its core, high quality is great teaching–teachers who understand the unique needs of each young child in their care and tailor their teaching to each individual child, day by day.
According to U.S. Department of Labor (2016), the median hourly wage for preschool teachers is less than $14.
Low wages and limited opportunity for professional development and support often leads to high rates of teacher turnover. High teacher turnover has been found to negatively affect children's social, emotional, and language development (Korjenevitch & Dunifon, 2010).
Poor pay and higher levels of teacher stress are associated with lower observed classroom quality in early childhood programs. (Center for American Progress)
Quotes from National Experts
"High-quality preschool education depends on effective, high-quality teachers." W. Steven Barnett, Board of Governor's Scholar and founder, National Institute of Early Education Research, Rutgers University 
"Research shows that early childhood teaching quality is actually quite malleable," she wrote. "Professional development, particularly when it involves regular in-class support from a mentor teacher or coach, has been shown to significantly improve the quality of teacher-child interactions." Rachel Valentino, educational consultant at McKinsey & Company
"Teachers with at least a bachelor's degree are more likely to aptly approach instruction—they are more sensitive, less punitive, and more engaged." (IOM & NRC, 2015; Whitebook, 2003)
Using CPQ Data for State Specific Data
To learn how to create similar graphs depicting your specific proposals, please contact CEELO.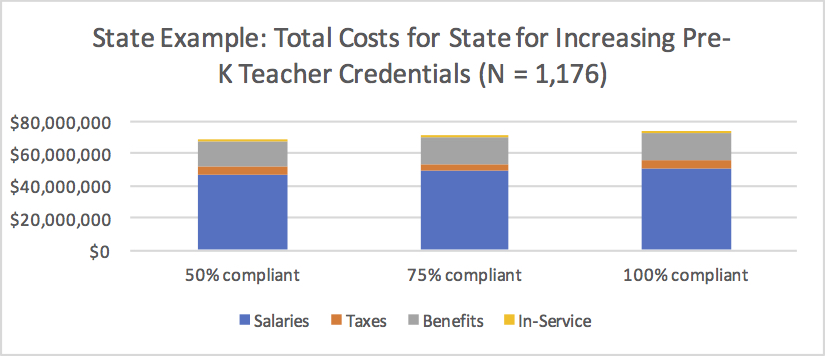 CEELO and NIEER Resources about the costs associated with quality
---
[1] Institute of Medicine and National Research Council (2015). Transforming the workforce for children, youth through age 8. Washington, D.C.: The National Academies Press.