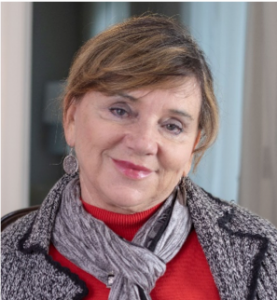 Dr. Linda M. Espinosa is Professor Emeritus of Early Childhood Education at the University of Missouri, Columbia and has served as the Co-Director of the National Institute for Early Education Research (NIEER) at Rutgers University and Vice President at Bright Horizons Family Solutions. She was most recently Co-PI for the Getting on Track for Early School Success: Effective Teaching in Preschool Classrooms project at the University of Chicago and former Co-PI for the Center for Early Care and Education Research—Dual Language Learners (CECER-DLL) at Frank Porter Graham CDI at the U of NC. Her recent research and policy work have focused on effective curriculum and assessment practices for young children from low-income families who are dual language learners. Linda also served on the Head Start National Reporting System (NRS) Technical Advisory Group as well as the Secretary's Advisory Committee on Head Start Research and Evaluation and was a contributing author of the report from NASEM (2017), Promoting the educational success of children learning English. Recently, she has co-authored the California Early Learning Foundations, English Language Learners Chapter, the California Preschool Curriculum Frameworks English Language Development Chapter, and the Desired Results Developmental Profile, 2010, English Language Development Assessment Measures. Linda served as the lead consultant for the LAUSD Transitional Kindergarten program development team and is a member of the Council for Professional Development Governing Board. 
Linda has worked extensively with low-income Hispanic/Latino children and families throughout the state of California as a school administrator and program director in San Francisco, San Jose, and Redwood City. The second edition of her latest book, Getting It RIGHT for Young Children from Diverse Backgrounds was published Jan., 2015. She developed and directed the Family Focus for School Success program in Redwood City, California, which has received state and national recognition. She has published more than 90 research articles, book chapters and training manuals on how to establish effective educational services for low-income, minority families and children who are acquiring English as a second language. More recently, she has lectured and consulted widely both nationally (California, Oklahoma, Illinois, New Jersey, Colorado, Washington, New York, North Carolina, Nebraska, New Mexico, Washington DC, Harvard University, UCLA, Texas A & M, U. of Chicago, Princeton University) and internationally (China, Canada, Australia, New Zealand).
Linda is the past treasurer of the NAEYC Governing Board and participated on the National Academy of Sciences Research Roundtable on Head Start. She has recently completed a secondary analysis of the Early Childhood Longitudinal Study-Kindergarten Cohort (ECLS-K) and ECLS-Birth cohort on the school achievement patterns of language minority children. Linda also was a member of the National Academy of Sciences, National Research Board Committee on Early Childhood Pedagogy project and a contributing author to Eager to Learn: Educating Our Preschoolers, published by the National Academies of Science. She completed her B.A. at the University of Washington, her Ed.M. at Harvard University and her Ph.D. in Educational Psychology at the University of Chicago.
View the Pioneer Video by Clicking Below
As a young teacher and graduate student, Linda lived through and learned about the dichotomy of behavioristic and constructivism developmental theories. By teaching through one lens and studying about another, Linda established a more holistic and integrated perspective on early childhood development. Working in California schools with a large population of immigrant families, Linda's passion for second-language acquisition was birthed. Linda believes that the importance of a child's first language is really misunderstood and empirically, a child's native language has a significant role in English-literacy later on in life. Linda does believe that we have come a long way in the field, however. Thirty years ago, nobody thought early childhood was a true field of study. Today, the field has gained widespread credibility. Linda's variety of experiences taught her about how the role of language exposure at an early age plays an important part in the development and success of a child. She hopes that others in the field, if they have not already, begin to shift their perspective on this.
For Audio Only Click Below
"…'Well, all you do is babysit.'…And I think we're way past that now. I don't think anybody would say that to me anymore. I think that our field has gained credibility and widespread acceptance as a very important part of the early learning system."
"We think about children who don't speak English and come into our schools typically is, 'Well, there's a problem there because he doesn't know English.' We need to reverse that and say, "Here's a potentially gifted child…"
"… it really is how we believe and think about this idea of first language and the role of English and only English that exudes from us… although it's an easy enough shift technically … it's a very hard shift psychologically and emotionally for some people."