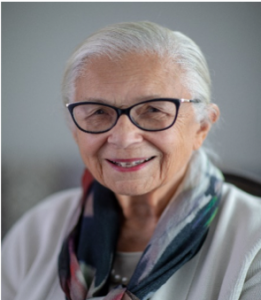 Dr. Barbara Bowman one of the three founders of the Erikson Institute for Advanced Study in Child Development in 1966, where she pioneered the teaching of early childhood education and administration. She has become a sought after expert and she tirelessly pursues higher quality and more extensive training for early education practitioners. Her areas of expertise include early childhood care/education and educational equity for minority and low-income children. Taking her expertise abroad, she has consulted with universities in China and Iran. In addition, she has directed training programs for Head Start teachers, teachers in inner-city schools, caregivers of at-risk infants and for a Child Development Associate's program on Native American Reservations.
For eight years, Barbara served as chief officer for early childhood education for the Chicago Public Schools, and during the first term of former President Barack Obama, she served as a consultant to the U.S. Secretary of Education. Today, she works to strengthen programs for young children and families by serving on numerous boards and committees, including the board of Presidents Commission for Excellence in African American Education, the Chicago Public Library, and the Great Books Foundation. Additionally, she writes and presents at conferences, addressing issues such as the "cradle to prison pipeline" and the need for systematic changes to ensure equitable opportunities for low-income and minority children.Throughout Erikson's history, Barbara has been integral in both its leadership and day-to-day operations, serving at various points as vice president, president, and a board member. Currently, she teaches graduate students as the Irving B. Harris Professor of Child Development and serves as co-principal investigator of a project aimed at improving child-parent centers across three states.
View the Pioneer Video by Clicking Below
How cultural diversity effected the development of children was a lived experience for Barbara. Through her years residing in Iran, as well as her experience working with the Native community in America, Barbara realized early on in her career that there were multiple paths to raising healthy children. In the current state of the early childhood field, she believes that there needs to be a paradigm shift in the field to influence policy change for early learners. Instead of thinking of young children of color as a solitary group, the field needs to provide these children with a variety of resources, while also being cognizant of the challenges they may be facing in regard to discrimination. Based on her experiences and exposures working with different cultural populations, she believes the system has to take a closer look to assess how each child learns best and how a curriculum can be changed to help that child learn best. As a pioneer of early childhood education, Barbara's hope for the future of the field is the promotion of libraries in schools. She believes that there are lots of opportunities for older children to contribute to the children in their community and that this social interaction would be mutually rewarding for both parties, as well as the field of education.
For Audio Only Click Below
"[In order to more effectively support all children], what kids need [is that] we need to be able to assess with their families and the communities, and provide that rather than saying one size fits all."
"What we need to do is to help lots of people understand the difference between development and education, that children can be developmentally competent and fail in school because they don't know the kinds of information that schools need them to know."
"I began to see that different children needed different things, and that we should not automatically assume that everyone [should] learn to learn the same way."