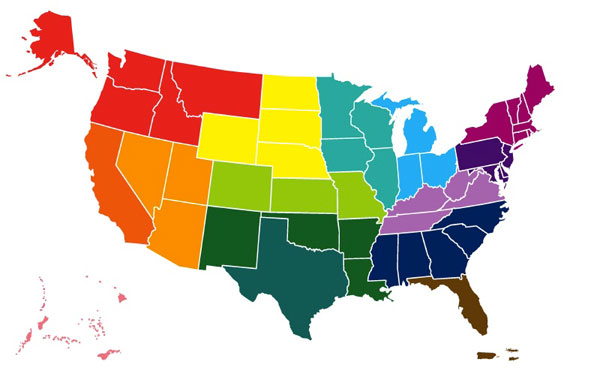 Comprehensive Centers Program
The Comprehensive Centers Program is authorized by Title II of the Educational Technical Assistance Act of 2002.The Centers provide technical assistance to State educational agencies (SEAs) that builds their capacity to:
1. Support local educational agencies (LEAs or districts) and schools, especially low-performing districts and schools;
2. Improve educational outcomes for all students;
3. Close achievement gaps; and
4. Improve the quality of instruction.
The Comprehensive Centers are five-year discretionary grants that operate under cooperative agreements. Fifteen Centers are regionally-based and seven provide expertise and services in specific, high-priority areas.
On a quarterly basis, CEELO holds a CEELO Regional Comprehensive Center (RCC) Early Education CONNECTIONS call. This forum provides a facilitated discussion between Regional Comprehensive Centers to share and learn about developments in early education from colleagues. For more information and resources from the calls, visit the CONNECTIONS page.
Appalachia Comprehensive Center
CEELO Liaison:
Lori Connors-Tadros
ltadros@nieer.org
States:
Kentucky, Tennessee, Virginia, West Virginia
Early Childhood Contact:
Carolyn Vincent
vincentc@mcres.com
(304) 823-2456
Address:
ICF Incorporated, LLC
300 Summers St.
Suite 600
Charleston, WV 25231
www.arccta.org
California Comprehensive Center
CEELO Liaison:
GG Weisenfeld
gweisenfeld@nieer.org
States:
California
Director:
Jannelle Kubinec
jkubine@wested.org
(916) 492-4069
Address:
WestEd
1000 G St.
Suite 500
Sacramento, CA 95814
www.cacompcenter.org
Central Comprehensive Center
CEELO Liaison:
Jana Martella
jmartella@edc.org

States:
Colorado, Kansas, Missouri
Director:
Donna Richardson
drichardson@ou.edu
(405) 325-5485
Address:
University of Oklahoma
1639 Cross Center Dr.
Suite 354
Norman, OK 73019
www.c3ta.org
Florida and Islands Comprehensive Center
CEELO Liaison:
Jana Martella
jmartella@edc.org

States:
Florida, Puerto Rico, US Virgin Islands
Director:
Alice Lindsay
alindsay@ETS.org
(813) 307-6103
Address:
Educational Testing Service (ETS)
100 N. Ashley Dr.
Suite 312
Tampa, FL 33602
www.ets.org/flicc
Great Lakes Comprehensive Center
CEELO Liaison:
Diane Schilder
dschilder@edc.org

States:
Indiana, Michigan, Ohio
Director:
Lisa Palacios
lpalacios@air.org
(630) 649-6601
Address:
American Institutes for Research (AIR)
1120 E. Diehl Rd.
Suite 200
Naperville, IL 60563
www.greatlakes-cc.org
Mid-Atlantic Comprehensive Center
CEELO Liaison:
Jana Martella
jmartella@edc.org
States:
Delaware, District of Columbia Maryland, New Jersey, Pennsylvania
Director:
Martin Orland
morland@wested.org
(202) 429-9730
Address:
WestEd
1350 Connecticut Ave. NW
Suite 1050
Washington, DC 20036
www.macc-atwested.org
Midwest Comprehensive Center
CEELO Liaison:
Lori Connors-Tadros
ltadros@nieer.org
States:
Illinois, Iowa, Minnesota, Wisconsin
Director:
Sara Wraight
swraight@air.org
(312) 283-2311
Address:
American Institutes for Research (AIR)
20 N. Wacker Dr.
Suite 1231
Chicago, IL 60606
www.midwest-cc.org
North Central Comprehensive Center
CEELO Liaison:
Lori Connors-Tadros
ltadros@nieer.org
States:
Nebraska, North Dakota, South Dakota, Wyoming
Director:
Kathleen Dempsey
kdempsey@mcrel.org
(303) 632-5634
Address:
Mid-Continent Research for Education and Learning (MCREL)
4601 DTC Blvd., Suite 500
Denver, CO 80237
https://sites.google.com/site/ncccmcrel/
Northeast Comprehensive Center
CEELO Liaisons:
Diane Schilder
dschilder@edc.org
Jim Squires
jsquires@nieer.org

States:
Connecticut, Maine, Massachusetts, New Hampshire, New York, Rhode Island, Vermont
Director:
Everett Barnes
ebarnes@rmcres.com
(603) 422-8888
Address:
RMC Research Corporation
1000 Market St.
Building #2
Portsmouth, NH 03801
http://northeastcompcenter.org
Northwest Comprehensive Center
CEELO Liaison:
Jana Martella
jmartella@edc.org

States:
Alaska, Idaho, Montana, Oregon, Washington
Director:
Mike Siebersma
mike.siebersma@educationnorthwest.org
Address:
Education Northwest
101 SW Main St.
Suite 500
Portland, OR 97204
http://northeastcompcenter.org
Pacific Comprehensive Center
CEELO Liaison:
Lori Connors-Tadros
ltadros@nieer.org
States/Territories:
American Samoa, Commonwealth of the Northern Mariana Islands, Federated States of Micronesia, Guam, Hawaii, Republic of Palau, Republic of the Marshall Islands
Director:
Melly Wilson
wilsonm@prel.org
(808) 441-1354
Address:
Pacific Resources for Education and Learning (PREL)
900 Fort Street Mall, Suite 1300
Honolulu, HI 96813
www.pacificcompcenter.org
South Central Comprehensive Center
CEELO Liaison:
Lori Connors-Tadros
ltadros@nieer.org
States:
Arkansas, Louisiana, New Mexico, Oklahoma
Director:
Belinda Biscoe Boni
bpbiscoe@ou.edu
(405) 325-6939
Address:
University of Oklahoma
1639 Cross Center Dr.
Suite 354
Norman, OK 73019
www.sc3ta.org
Southeast Comprehensive Center
CEELO Liaison:
GG Weisenfeld
gweisenfeld@nieer.org

States:
Alabama, Georgia, Mississippi, North Carolina, South Carolina
Director:
Beth A. Howard-Brown
beth.howard@sedl.org
(803) 240-1748
Address:
SEDL
440 Knox Abbott Dr.
Suite 200
Cayce, SC 29033
http://secc.sedl.org
Texas Comprehensive Center
CEELO Liaison:
Diane Schilder
dschilder@edc.org

States:
Texas
Director:
Janice Keizer
jkeizer@air.org
(800) 476-6861
Address:
SEDL
4700 Mueller Blvd.
Austin, TX 78723
http://txcc.sedl.org
West Comprehensive Center
CEELO Liaison:
Jana Martella
jmartella@edc.org

States:
Arizona, Nevada, Utah
Director:
Paul Koehler
pkoehle@wested.org
(602) 322-7004
Address:
WestEd
2020 N. Central Ave.
Suite 510
Phoenix, AZ 85004
www.wested.org
Center on College and Career Readiness and Success
CEELO Liaison:
Jim Squires
jsquires@nieer.org

Director:
Joseph Harris
jharris@air.org
(202) 403-5901
Address:
American Institutes for Research (AIR)
1000 Thomas Jefferson St. NW
Washington, DC 20007
www.ccrscenter.org
Center on Enhancing Early Learning Outcomes
Director:
Lori Connors-Tadros
ltadros@nieer.org
(571) 239-5129
Address:
National Institute for Early Education Research
Rutgers University
73 Easton Ave.
New Brunswick, NJ 08901
www.ceelo.org
Center on Innovations in Learning
CEELO Liaison:
Diane Schilder
dschilder@edc.org

Director:
Marilyn Murphy
murphyma@temple.edu
(215) 204-3372
Address:
Temple University
1301 Cecil B. Moore Ave.
Ritter Annex, Suite 459
Philadelphia, PA 19122
www.centeril.org
Center on Standards and Assessments Implementation
CEELO Liaison:
GG Weisenfeld
gweisenfeld@nieer.org
Director:
Stanley Rabinowitz
srabino@wested.org
(415) 615-3154
Address:
WestEd
730 Harrison St.
San Francisco, CA 94107
http://standards-assessment-cc.org
Center on Great Teachers and Leaders
CEELO Liaison:
Jana Martella
jmartella@edc.org

Director (Interim):
Lynn Holdheide
lholdheide@air.org
(202) 403-6321
Address:
American Institutes for Research (AIR)
1000 Thomas Jefferson St. NW
Washington, DC 20007
https://www.gtlcenter.org/
Center on School Turnaround
CEELO Liaison:
Tom Schultz
thomass@ccsso.org

Director:
Fred Tempes
ftempes@wested.org
(916) 492-4039
Address:
WestEd
1000 G St.
Suite 500
Sacramento, CA 95814
www.centeronschoolturnaround.org
Center on Building State Capacity and Productivity
CEELO Liaison:
Lori Connors-Tadros
ltadros@nieer.org
Director:
Dean Nafziger
dnafziger@edvanceresearch.com
(210) 558-4101
Address:
Edvance
9901 1H-10 West
Suite 1000
San Antonio, TX 78230
www.bscpcenter.org